See on Scoop.it – Natural Male Enhancement Solutions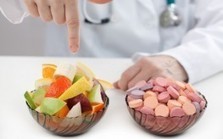 A new program in New York City, the Fruit and Vegetable Prescription Program, allows doctors to prescribe families fruits and vegetables to combat disease.
In the upside-down world we live in, the Food and Drug Administration won't admit that foods are a significant part of illness and disease prevention or treatment, and doctors are more apt to give you pills than healthful eating and lifestyle tips. In this world, it's not often we see officials taking a progressive step towards natural health and away from our overdependence on Big Pharma. However, sometimes it does happen, and in New York City, it's happening now.
And while Big Pharma and corporations involved in the junk food industries would love nothing more than a population fed off a steady diet of pills and processed foods, the largest city in the nation (and global leader itself) is taking a stand for natural health and true wellness. Here's hoping they are only the first in many more to come.
Michael Wiener's insight:
This is great news to encourage the younger generation and generations to come to concentrate on fresh fruits and veggies. Thanks Doc, for making that brilliant move.
See on naturalsociety.com